Forget the winter blues this July, and create your own warmth remedy with a weekend away filled with hot drinks, warm robes, steamy food and spa treats!
If the cold gets you down, there is no better cure than an intensive Aromatherapy massage to get your mind to zone into a place of freedom, serenity and calm.
Many times, if you have planned for a certain occasion, you feel excitement when you think of it and it gives you drive to hold on until the day comes.
Depending on your idea of relaxation, whether it is the beach, the Berg or the country, as long as you have time to do the things you want to (and not have to), you are sure to gather enough energy to take on the coming months.
"We believe that the country is the perfect place to rejuvenate the senses. From the crisp air, to the sounds of flowing water, and fireplaces alight in winter, you get to feel a sense of euphoria. For those who visit Granny Mouse Country House & Spa in the winter – it truly is one of the best places to be in the Midlands. As you walk to reception you are welcomed by the sounds of flowing water. The rooms are also filled with lavender scents to begin the relaxation process. There are robes and slippers on offer during each stay to ensure you feel cosy and there is a fireplace in your room to ensure the comfort of heat during colder evenings. Our spa is also a few steps away from each room and once you arrive, you are treated with a complimentary foot soak before your treatment gets underway," says Sean Granger, General Manager.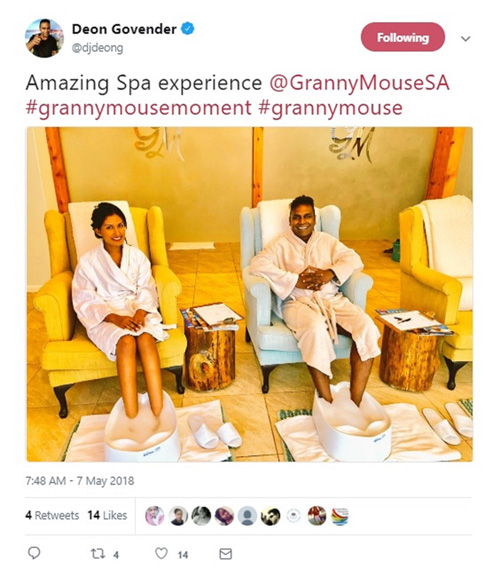 Source of image: https://twitter.com/djdeong/status/993502959924367361
The spa is a highlight for many as they need not travel far to be pampered.
The most popular treatments for those wanting a complete "time-out" experience include:
Aromatherapy Full Body Massage (60min or 90 min options are available) which combines the use of pure natural essential oils with healing therapeutic strokes.
Indian Head Massage (30min) – A detoxifying massage treatment of the head, scalp, face, neck and shoulders which aims to relieve stress and anxiety.
Hydrating or Detox Wrap (60min). Using CSpa products, this enchanting cocoon includes an exfoliation which helps unwind, restore, balance and comfort the body. There are two options. One is focussed on hydration with neroli and vanilla essential oils or detoxification, with peppermint and rosemary essential oils.
Shimmer Milk Bath – A sensorial shimmer milk bath using CSpa products, which is rich in vitamins. It is regenerating, rejuvenating and re-mineralising. The body indulges in pure pleasure and the skin is dusted in a shimmering veil. This treatment also assists in moisturising the skin during the harsh winter months when the skin is drier.
Couples spa treatment is also a popular choice and allows romantic moments to be shared with your loved one in the privacy of a couple's room. The entire treatment is 2 hours and 30 minutes and includes a Couples Hydro Bath Session, Swedish Full body massage, Thalgo Classic facial and a complimentary glass of Champagne.
After your treatment, retreat back to your room to nap, read a book or spend time with your loved one. Alternatively, fill the bath tub with the wonderful baths salts, oils and bubbles that line the bath and enjoy the scents that fill the steam while soaking away your stress.
If you are looking for a little retreat to restore and unwind this winter, consider the KZN Midlands as your first choice. Currently on offer is a winter special at Granny Mouse Country House and Spa which includes Bed and Breakfast, a 30 minute back & neck treatment per person, a case of wine to take home upon departure, a chocolate & brandy tasting per person and a welcome hamper in the room upon arrival. Visit www.grannymouse.co.za for more information.