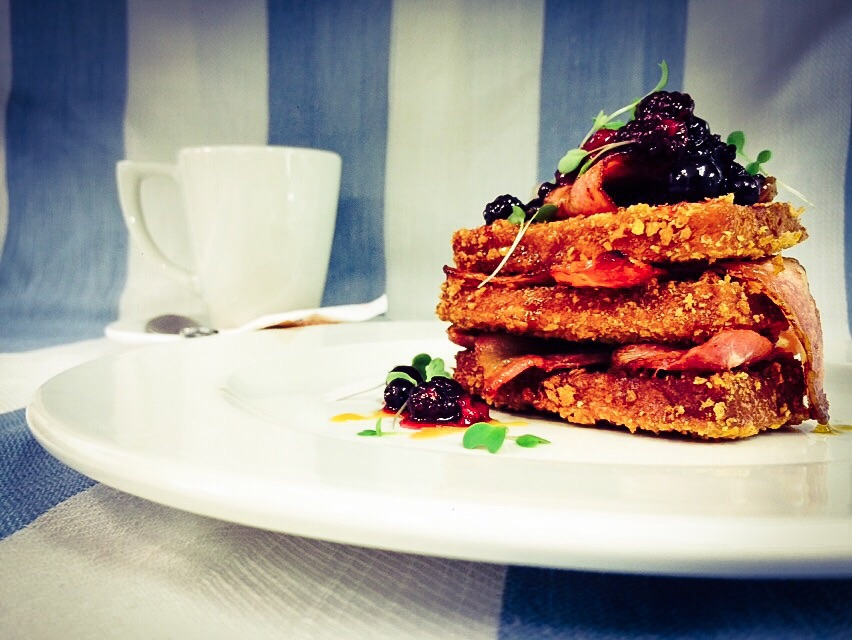 When it comes to Father's Day, we all enjoy making dad feel extra special, so here's a recipe from Granny Mouse Country House & Spa, that the kids can make under mom's watchful eye.
Crispy triple decker bacon French toast with golden syrup and mixed berry stack !!!!
You will need:
• 3 slices of bread
• Bacon
• Syrup
• Eggs
• Cornflakes
• Oil
• Salt
• Mixed berries
• Sugar
The Method:
Step 1: Take the mixed berries and add two table spoons of sugar and mix well. This will release the juices of the berries. Set aside, allowing the sugar to dissolve.
Step 2: Take the corn flakes and pulse in a blender. If you do not have a blender, just use a rolling pin and an oven tray, and roll over the flakes until they are broken. Just make sure you don't make them too fine!
Step 3: Get a tray with whisked eggs lightly salted for the bread
Step 4: Place the bacon on an oven tray and back in the oven for about 14 min on 180 degrees. If dad likes his bacon a little crispier, then just cook it for a little longer.
Now that you have all the main components ready you can now start…..
Step 5: Place a medium size pan on the stove, on medium heat and add in the oil. Make sure mom is there to help, as we wouldn't want anyone getting burned.
Step 6: Place the bread in the egg mix, and then in the cornflakes and place it into the hot oil.
Step 7: Pan fry until golden brown. Once it's cooked to how you think dad will like it, place the bread on a paper towel to remove any excess oil.
Step 8: Place a slice of crispy French toast on the plate, and add 2-3 slices of bacon. Drizzle golden syrup over the bacon and the bread and repeat this process until all the bread is stacked with bacon in-between each slice.
Step 9: Using a spoon, top the crispy French toast stack with the mixed berry mix.
Now take this to dad, and don't forget to add a knife, fork and serviette to his plate. We know he will love it!
Serve and enjoy!!