Weddings are a celebration of two lives becoming one that is witnessed by friends and family.
For some who are new to your friends circle, such as colleagues and extended family, it is a lovely idea to add a photo memory wall to the décor of your wedding, so that people can follow your love story from the day it started, with photos capturing your special moments.
For those who have lost loved ones and want to include them in the special day, the memory wall could be of the loved one and your moments with them, so that guests can remember that special person on your special day as well.
With websites such as Pinterest readily available to the bride-to-be, ideas are endless.
For a simple DIY photo wall, Veronica Sookdin of Granny Mouse Country House & Spa gives us a step by step guide to making your own.
First:
Find a wall that you want to use at the venue.
Second:
Create the photo wall and hang.
Here is how to make it:
Tools:
String, ribbon or t-yarn
A wooden dowel
Photos (all the same size is preferable)
Stapler or hot glue (glue gun needed for hot glue)
Method:
Wrap the ribbon or yarn around the dowel and leave about a metre and a half extra on the one side and tie to the other side which will be used to hang the photo wall.
Measure and mark even spaces along the dowel. This will be your guide to placing the string, yarn or ribbon.
Cut string, yarn or ribbon to the same length and then tie each piece to the dowel at the marks.
Arrange all of your images in the order you want them and place on the ribbon.
Apply a dot of glue at the back centre of each image and secure on the ribbon, yarn or string or staple the top of each image to the string, yarn or ribbon.
To secure the photo wall to a wall you can either hit a photo hanging hook to the wall if the venue allows and hang it on there. Alternatively you can hang it on a tree or on a plastic hook fitted with double sided tape that can be removed from the wall.
The ideas for adding extra accessories such as flowers, eucalyptus is endless and to every bride's preference.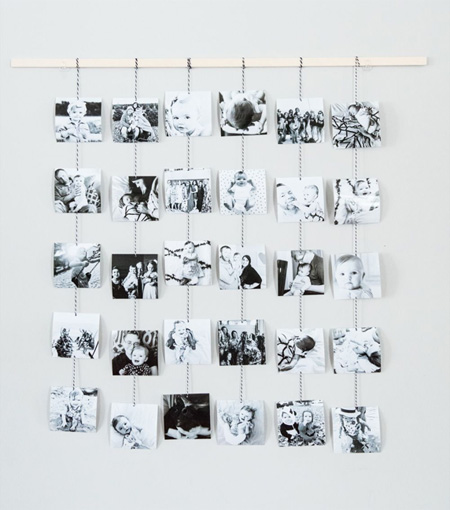 Photo credit:  https://www.google.co.za/searchq=hanging+photo+wall&rlz=1C1CHBD_enZA713ZA713&source=lnms&tbm=isch&sa=X&ved=0ahUKEwj0pcDHpfHcAhVqJ8AKHXHrBYcQ_AUICigB&biw=1777&bih=858#imgrc=IiNP0O1XIl6j-M: