As we go into spring and the season turns over a new leaf, so has Granny Mouse Country House & Spa with their new and improved Eaves menu.
"Our menu is an ever-evolving work in progress, wherever possible, focusing on the finest seasonal ingredients available. Being fine dining fare and one of the very few within the KZN Midlands, the portions are set according to richness and quality, ensuring diners savour every moment," comments Wayland Green, the Culinary Artist at Granny Mouse.
From September 1st, Eaves will boast a number of new dishes on their degustation menu with wine pairing, inclusive of Confit Garlic Mushroom (Sundried tomato & thyme pesto, crispy leeks, herb buttered crostini) accompanied by Villiera Jasmine; Prawn & Hake Sausage (Fennel corn cream, corn kernels & salsa Verde) accompanied by a Warwick 1st lady unwooded Chardonnay; Mushroom & Saffron Risotto (Parsley & lemon  pesto, parmesan crisps & sautéed white wine leeks) with an Ataraxia Sauvignon Blanc; Spiced Crusted Beef Fillet (Red wine ox liver ragu, cashew crumb, peppered carrots, slow roast tomatoes & broccoli florets) with a Leeuwenkuil Shiraz as well as Salted Caramel Parfait (Lavender sponge, ivory sorbet, salted caramel popcorn crumble) paired with Louisvale Brut Rose. The cost per person is R680 with wine and R485 without wine. Booking is essential.

As with most menus there is also an á la carte option for diners. The Eaves á la carte menu offers a wide variety of options both vegetarian and carnivore friendly. What sets Granny Mouse apart is the fact that diners can also choose to taste any of the dishes presented in the 5 course degustation menu as all are made available for guests in the á la carte menu. Other dishes include Soup of the Day, Mushroom & Saffron Risotto (Parsley & lemon pesto, parmesan crisps, and sautéed white wine leeks), Butternut Fritters (Red wine poached baby onions, goat's cheese mousse, orange & pistachio crumb); Mussel Ravioli (Cream cheese & mussel raviolis, shell fish veloute, coconut & lemon oil); Rosemary Lamb Loin (Served with port black cherries, buttered peas, creamed pumpkin puree & peppered baby potatoes); Braised Pork Belly (With caramelised sweet potato, sautéed chestnut, garlic mushrooms); as well as Seared Duck Breast (Garlic green beans & tomato, herbed polenta cake, orange & ginger reduction). Prices range from R45 to R180 depending on size and dish selection.

For those who enjoy something sweet to end off the night, diners can indulge in a selection of desserts including Bitter Sweet Chocolate Fondant (Chocolate chilli jellies, vanilla bean ice cream & chocolate honeycomb); Key Lime Tart (Tres Leche & coconut sorbet); White Chocolate Raspberry Brulee (Mini berry macaroons & rose Turkish delight). Alternatively, there are the more standard dessert options that include a South African Cheese Selection or the Trio Sorbet or Ice Cream. All desserts range between R50 and R85 depending on the selection.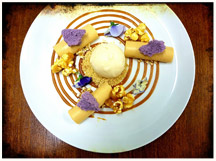 According to Sean Granger (General Manager): "It is important for us to constantly keep updating our menu for every new season. As soon as we release a new menu, we get straight back into preparing for the next season. Our Culinary Artist sketches, tries out and tests dishes in order to ensure the bar is set higher each time, so that every menu is top class and becomes an experience for every guest that dines with us."
For more information contact Granny Mouse on 033 234 4071 or visit www.grannymouse.co.za